Working During COVID-19
Over the past year, countless hours have been dedicated to ensuring the safety of cast & crew returning to work in the film industry during a global pandemic. Millions of dollars are currently being spent on Nova Scotia-based productions on private testing, PPE, and preventing COVID-19 from entering the workplace/spreading.
In the spring of 2020, Screen Nova Scotia along with representatives from I.A.T.S.E. Local 849, I.A.T.S.E. Local 667, DGC-ARC, ACTRA, and local producers, a set of guidelines for the film industry to continue work during the pandemic. Though the provincial restrictions seem to be ever-changing, the film industry has been permitted to remain open and Screen Nova Scotia has coordinated how these restrictions affect how the film industry functions. Current protocols, restrictions, and guidelines as they pertain to the film industry in Nova Scotia can be found
here
.
With COVID-19 (coronavirus) causing massive shutdowns of various entertainment industry jobs, the IATSE Canadian Office has put together some resources to help both members and non-members in the industry. Please
click here
to see the resources they have compiled.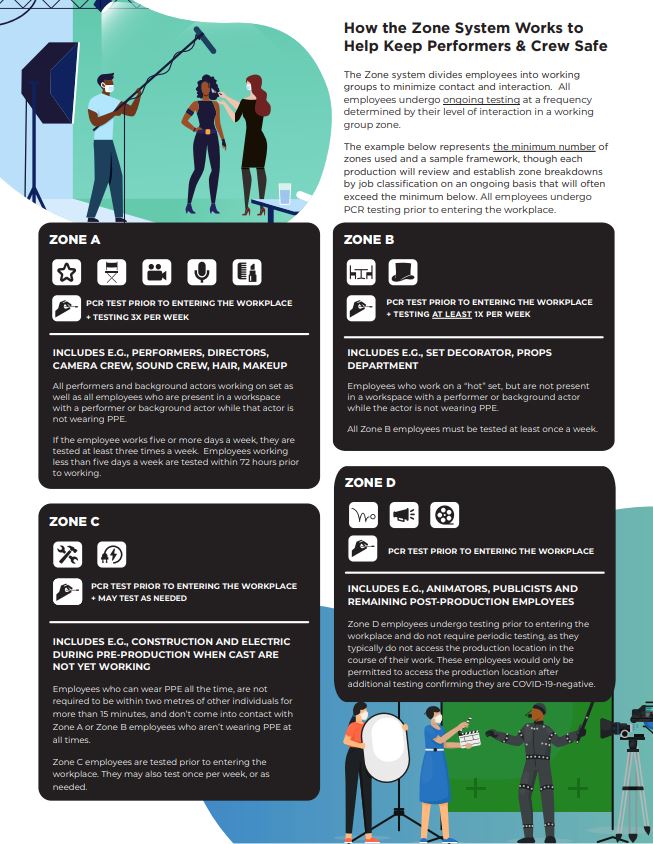 The Motion Picture Association – Canada (
MPA-Canada
) serves as the voice and advocate of the major producers and distributors of movies, home entertainment, and television programming in Canada and is an affiliate of the Motion Picture Association, Inc. (MPA).
The
global
studios they represent include
Walt Disney Studios (Disney | ABC Television), Paramount Pictures, Sony Pictures Entertainment, Netflix Studios, Universal City Studios (NBCUniversal | Universal Cable Productions),
and
Warner Bros. Entertainment.
The major studios represented by the AMPTP and the Motion Picture Association, together with their major union partners representing cast and crew, came together at the outset of the pandemic with guidance from leading infectious disease and public health experts, epidemiologists, and a range of medical and occupational safety professionals to develop the most robust industry protocols for safe return to production. These protocols represent the minimum signatory studio productions have to do in Canada. You can find the full press release here and the infographic here.
---
COVID-19 FAQs
Do I have to agree to be tested as a condition of employment?
The short answer is 'yes'.

As long as the testing is not discriminatory - i.e. everyone is subjected to a test - you can be obliged to get tested prior to starting your day. You may be asked to sign a consent/release form.

Not all test types can be processed in Nova Scotia labs. Note that depending upon where the testing contractor sends its tests to, there may be language that references the Province of Ontario or British Columbia. This is standard, and legal.
Do I have to wear a mask or PPE as a condition of employment?
If that's what the production says you have to do, then yes. As the employer, it is their responsibility to make every effort for a safe workplace. They want to prevent a COVID-19 infection.
What do I do if someone isn't following the rules or the production isn't complying with the safety protocols?
Each production will have a 3rd party COVID Health and Safety Coordinator. You should be able to bring any concerns to them, including non-COVID issues. If your concerns aren't addressed or you aren't comfortable going to them, please contact the Business Agent for the union or guild you are working under.
At any time, anyone can annonomusly use the
IATSE SAFETY APP
(Link on production specific page) to report ANY concerns including unsafe working conditions.
What happens if someone on the crew gets infected with COVID-19?
One of the purposes of the daily questionnaire is to help with contact tracing. By law, once there is a positive case, the Provincial health authority will take over. It will be up to Public Health to determine next steps, such as if the production must shut down. Depending on who is ill, the production may decide on its own to pause, to be cautious.